Teddy Award 2006
Interview mit/with Wieland Speck (Page 5)
Was there criticism at the time that such a prize would make these films compete with one another? When the Forum was founded that was an important factor delineating it from the rest of the festival: "Don't create a competitive situation."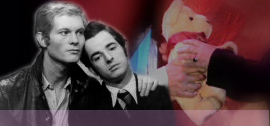 Nicht der Homosexuelle ist pervers, sondern die Situation in der er lebt
When the idea of the Teddy was born, we already noticed that films benefited from an award. For example, because the press likes to have a peg to be able to report on a film. It's also important - especially with an award that sees itself as political like the Teddy - that a filmmaker can return with a prize from the Berlinale to his country, where he is actually an outlaw because of his films. The dilemma we set into motion in certain countries is something that we especially enjoyed. "Damned if you do, damned if you don't" - this was very effective.

Again and again while preparing for the festival, I had the experience that my request for gay and lesbian or transgender cinema would first result in speechlessness in many countries. But because it is the Berlinale, after all, they have to take look around and ask: What's actually out there? These are the political issues, which lie behind the Teddy. Therefore we have never asked ourselves the question, whether we still need the Teddy. The press has often raised this question. They say the issue has long since been resolved - but that's not the case with us and by no means in most countries of the world, where it continues to be an absolute disadvantage to be gay or lesbian.

"The patriarchy is still the ruling power."

When you reminisce, do you "look back in anger"?

The first ten years of the Teddy were hard work. In the second decade it was up and down, depending on political events. In the


beginning most of the films came from America and Europe. With emancipation gaining ground in more and more countries, it became possible to make films on gay and lesbian issues. But in many countries gays and lesbians as well as people, who make films on this subject, continue to be outlawed. To show a film from Iran about a transsexual, as we did three years ago, was a sensation. We had to take enormous precautionary measures, because this continues to be a highly political issue.

But it's by no means just the Islamic countries. In our neighbouring Poland a man was recently elected president who has been spreading so much hatred towards gays and lesbians, that a lot of people have been hurt, also physically. At the moment in Poland, gays and lesbians are being attacked by neo-Nazis and the police are doing nothing about it. This shows that we are nowhere even close to where we think we are, when we see a mixed crowd enjoying itself in the bars and on the dance floors here. The basic political situation hasn't changed. The patriarchy is still the ruling power on this planet and in each and every country; and the patriarchy feels extremely threatened by men who don't go along with it.

You have already said that Teddy is a political film award. Has the focus of the prize, the definition or the intentions behind it, changed?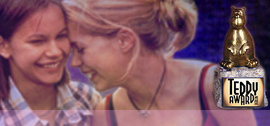 Scene from Fucking Åmål, Teddy award winner 1999
It has changed, especially for us in "the West", where more and more gay and lesbian characters can be seen integrated into films. Through the end of the Seventies, the gay character had to be dead by the end of the film, that is, if he hadn't been sent on in the middle as the comic relief. It took until 1980 for the first films to appear in which actual living, feeling homosexuals who experienced moments of happiness appeared.

"Up until the Seventies, gays had to be dead by the end of the film."

"Teddy-relevant" - that's how we expressed it in the beginning - was every film that advanced a gay or lesbian topic. It's totally