Sat, Feb 13
Gentlemen Broncos
(See also: TEDDY TODAY Feb. 13, 2010)


Benjamin ist ein Teenager und Sonderling. Sein Leben kreist fast nur um seine exzentrische Mutter. Er hilft ihr beim Verkauf ihrer selbst kreierten Nachthemden und sie gibt ihm alle Liebe und Unterstützung dieser Welt. So fördert sie seinen Traum, Schriftsteller zu werden. Sie schickt Benjamin zu einem Schreibworkshop bei dem berühmten Science- Fiction-Autor Dr. Ronald Chevalier, dem der Junge sein eigenes Manuskript zur Begutachtung anvertraut. Da daraufhin nichts passiert, überlässt Benjamin das Manuskript einem B-Movie-Produzenten, der es mehr oder weniger dilettantisch verfilmt. Benjamin staunt nicht schlecht, als eines Tages der neue Roman von Dr. Chevalier SEINE Geschichte enthält. Doch da hat er schon eine Klage auf dem Tisch, die ihn selbst mit dem Vorwurf des Plagiats konfrontiert. Der Film ist neben der Coming-of-Age-Geschichte eine Huldigung des Science-Fiction Genres mit seinen eigenwilligen, queeren Charakteren, seiner ausufernden Phantasie und seiner ironischen Ernsthaftigkeit.

Benjamin is a teenager and a misfit. His life revolves around his eccentric mother. He helps her to sell the nightshirts that she creates. She offers him all the love and support in the world. She supports his dream to become a writer. She sends Benjamin to a writing workshop with famous science fiction author Dr. Ronald Chevalier. The boy asks the writer to evaluate his manuscript, who doesn't react. The boy gives his manuscript to a B-movie producer, who makes a fairly awful film. Benjamin is beside himself when he sees that Dr. Chevalier's new novel is HIS story. Furthermore he is presented with a plagiary suit. The film is a coming of age story as well as a homage to the science fiction genre with it's queer characters, his expansive fantasy and his ironic genuineness.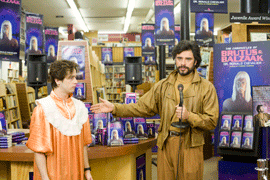 Filmstill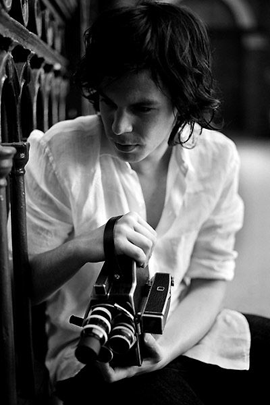 Filmstill
by Jared Hess / 089 min
with Michael Angarano, Jennifer Coolidge, Jemaine Clement, Mike White, Hector Jimenez, Halley Feiffer, Josh Pais, Edgar Oliver, Clive Revill, Sam Rockwell
Prod: Fox Searchlight Pictures
Screenings at the Festival:
13.02. 19:30 Uhr BABYLON
14.02. 15:30 Uhr CUBIX 8
15.02. 16:30 Uhr CINEMAXX 3