Sun, Feb 18
TEDDY TODAY
My First TEDDY
and What I Want to Be When I Grow Up
Guest Column by Kanchi Wichmann age 32

The thing about Berlin is that almost everybody here is some kind of artist. It's kind of like the 'all the waiters are actors' thing in LA except it's so cheap to live here that most people don't even need a day job (and there's hardly any Black people). The other thing about Berlin is that almost everybody seems to have touched upon some part of the LGBT (Lesbian, Gay, Bisexual and Transgender) scale at some time or other, or at least they look like they have. I'm sorry but in London you just don't see straight men with fake tans, cropped hair and tight jeans and the only straight women you do see with short hair and bulky men's coats are homeless women (that's another issue, but now's not the time). So for me moving here last year felt like a kind of spiritual homecoming, I felt I'd finally found my people. Except ideally my people would also speak my language, eat a lot less meat and understand the importance of pirate radio. You see I'm a person who's creative pursuits (I hesitate to use the word 'talents') include djing, making music, film making, comic writing and writing bad poetry. And my relationship history has touched upon every element of the LGBT acronym, sometimes all in the same night (yes I can verify this puzzling claim, but now's not really the time).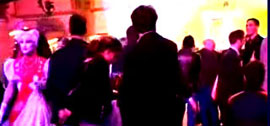 Video: Teddy Gala Impressionen Teil 1

So after leaving behind the cruel and unforgiving shores of England for the cosy smoke-filled boulevards of Berlin last year, I was eager to find my place in this queer/art utopia. And whilst sitting in the curiously named Bier Himmel (Beer Heaven-curious 'cos they have a very poor selection of beers), a friendly (and smoke-filled) gay café/bar in Kreuzberg, I chanced upon an ad in the Siegessäule (Berlin's gay magazine) for a voluntary job in the TEDDY press office. The requirements were fluent English and a good knowledge of gay cinema. Well I pride myself on my ability to articulate myself in my native tongue and almost no one has wasted as much of her life searching for gay kisses in darkened cinemas as I have…
Within a few weeks I was nestled warmly in the poorly paid but undyingly passionate bosom of the TEDDY press family. I spent nights trying to translate the German humour into English (both literally and metaphorically) and days attending meetings clasping my dictionary under the table. Luckily the Neukölln Arbeitsamt was keen to support my foray into TEDDY land with unquestioning and regular financial support.
After four months of beavering away in our office in Kreuzberg, the Berlinale loomed. We got our first taste of what was to come party wise with a prize-giving evening at the Rathaus Schöneberg, hosted by Regenbogenfonds. The TEDDY was presented with a giant cheque and the evening was a tasteful mix of tinkling piano music, political lecturing and champagne and niblets. I was having a wonderful time until I chanced upon a mirror and realised I had flour down the front of my black sweatshirt from a pizza I made three days before. It was then that I got my first taste of the 'fish out of water' feeling I would come to know well throughout the following weeks. However I valiantly decided to go with it, reasoning that maybe people would think it was cocaine and then I would seem like some kind of rock star…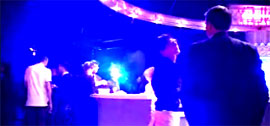 Video: Teddy Gala Impressionen Teil 2


We were also invited to attend the pre-festival press screenings. There was something exciting about hurrying down to Potsdamer Platz to watch films that people in the 'real world' didn't even know existed yet. Unfortunately this excitement was short-lived for me; during the actual festival I had to jealously covet the purple bags, free cinema tickets and access all areas passes from afar. I did however still manage to see a few films, and the festival atmosphere was definitely buzzing. Almost every screening was attended by the director, star or in the case of the Jack Smith films the man who rescued and restored the prints. Jerry Tartaglia was an amazingly informative and also acerbically witty man and it is a tribute to the scope of the Berlinale that they invited him and others like him as well as the expected big names. The diversity of films on offer is quite rematkable, personally I wanted to see almost every film in the forum/ forum expanded sections, but unfortunately my dole money just wouldn't stretch that far. The atmosphere in Berlinale Palaste was electric, I felt like I was going to collect an Oscar just walking to the toilets. The limousines, the flash bulbs, the giant mirror ball, the members of the public waiting for hours in the freezing cold… These are some of the things that make the Berlinale unmissable. And of course it also has the unique attraction of being the only A-list festival that has a specific award for queer film, the TEDDY award.

As part of the TEDDY family I was warmly welcomed to many parties and events. These were memorable (and smoke-filled) affairs. Things kicked off with the jury Empfang in Home Base where I got to meet (and dance with) the members of the TEDDY jury. An immaculate collection of queer-film related folks from all around the world who had come to Berlin keen to do justice to the legacy of the TEDDY award. Oh yeah and they also know how to party, what more could you ask for? As someone who has attended many film festival parties over the years I found the TEDDY parties notable for managing to combine an impressive range of guests with a cosiness that is often hard to achieve in the hub-bub of a film festival. I found myself networking with the cream of the queer film world, faces from the local scene, random creative types, minor celebrities and a seemingly never ending supply of drag queens. But I use the word networking loosely, lounging on a sofa in Schwuz clutching a kiwi fruit in one hand and a cup of lentil soup in the other I felt I was at the party of an old friend, not at a Queer Film Networking event. And were the other Berlinale parties so full of pleasing gender ambiguity?
And then finally, just when I thought I could go no further and needed to sleep for a week, the TEDDY Awards ceremony arrived. The lights, the fanfare, the glamour and the glitz, this was the moment the whole TEDDY team had been working towards and we were not disappointed. To be part of something that previously I would only have been able to watch on TV was an unbelievable experience. I watched in awe as the actor and former lover of Visconti, Helmut Berger (described in the programme booklet as "The one and only dandy of the German film, Helmut Berger has always been an extraordinary representative of queer cinema") received his special TEDDY award. He seemed a bit disappointed with its size, commenting on how small it was, but to be honest, it did look a bit insubstantial when compared to the giant TEDDY dominating the corner of the stage. At the party afterwards I found myself trapped in the middle of a gay superclub with a bizarre mix of people that felt more like Ibiza than Berlin, if I liked house music this would have undoubtedly been the high point of my career. And on that point I would like to take this moment to apologise for the vacuous and somewhat rambling nature of this column. I am writing it the afternoon after the awards ceremony and in my sleep-deprived state I feel it would be unwise to touch upon the political aspects of the TEDDY that were also a prominent feature of the ceremony (as well as an intrinsic part of the TEDDY legacy). It seems somewhat presumptuous to compare myself to Helmut Berger but in my commitment to queer cinema and my propensity to fall asleep or change the subject before finishing… my…sentence, today I am happy to feel a short moment of kinship with this amazing man...
When I grow up I hope that my desire to write a compelling and convincing account of why capitalism needs such narrow and unworkable definitions of gender and relationship cleverly linked to a dissection of why society in general needs to open up to queer self-expression (in particular queer cinema) and why queer self-expression is as essential as bread and roses and and and…wins out against my desire to party all night long with the stars. Thank you and good night!