Mon, Feb 14
TEDDY TODAY
Column by Karin Schupp

deutsch
Stress is making you sexy, stress is making you pretty, my fellow columnist Andrea writes - well, yes, the dark circles around my eyes go well with my sallow complexion (at least, I guess - for I predominantly hang out in dark rooms these days which are just dimly lit by the displays of mobile phones - I wonder what important SMS all those people have to write during the screenings).

Today, it was my documentary day. It all started with "INSIDE DEEP THROAT" , that tells the story of the legendary porn movie (1982) and his social und cultural influence on the USA. This documentary is rather straight apart from some statements of John Waters, Camille Paglia, Annie Sprinkle and Gore Vidal, but it's from gay filmmakers Fenton Bailey und Randy Barbato who, two years ago presented "Party Monster" in the Panorama section.
The reason why they did a film about a straight porno has to do with their producer Brian Grazer's (who als produces Jodie Foster's newest movie "Flightplan") grandmother who watched "Deep Throat" and thus proved that the film had arrived in mainstream culture.
They themselves realised that "Deep Throat" is not a good idea for a video night with friends: after twenty minutes, they felt so embarrassed that they cut it off.
At the press conference, Bailey and Barbato, neatly clad in suit and tie, said that they "fight against the moral dictators, the self-censorship of the studios and media" and the "climate of fear" in the USA. "We are missionary", Bailey said, while Barbato, who just couldn't pass up the corny joke, added "But not in a missionary position."
Bailey also emphazised that "we're not here to promote public orgies" - but he clearly seemed not to be convinced by his own words. That's why I'm really sorry that I couldn't get hold of an invitation to the "Inside Deep Throat"-Party in "Soprano" at Kurfürstendamm - who knows what happened in there...



"ZERO DEGREES OF SEPARATION", by lesbian Israeli-Canadian director Elle Flanders is about the Israeli-Palestinian conflict. We meet two "mixed", i.e. Israeli-Palestinian couples, one gay male and one lesbian. Flanders and one of her protagonists, Israelic activist Ezra, attended the screening, but unfortunately, there was not time left for a Q & A as Ezra took his time to deliver a committed political speech. "He has a lot to say", Flanders responded indulgently. More from her and Ezra today at 12:00 at the daily breakfast talk with Jürgen Brüning (Cinema Arsenal).
While Andrea was having dinner with the premier minister of Swasiland (don't ask!), I had my usual Berlinale-Fast Food before attending the world premiere of "GENDER X" , by Julia Ostertag, a documentary about Berlin's drag and trans scene which, of course,
afterwards all came on stage - even the ones who weren't part of the film. Too bad that the director wasn't at all interested in drag kings and f-t-m-transgender people.
It wasn't mentioned on stage but, as Gloria Viagra has said before, this evening was dedicated to OVO MALTINE, drag queen, Aids and political activist and actor in several, movies by Rosa von Praunheim and Michael Brynntrup, who died last Tuesday.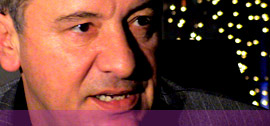 Harry´s Talk
Fassbinder actor Harry Baer interviews
Members of the Teddy Award Jury
The premiere party already started in the foyer of CineStar cinema until the crowd moved to Barbie Deinhoff's, where owner Lena Braun breeds drag queens there as she told in the movie. I went for the party by Berlin Lesbian Film Festival and lesbian magazine