Sat, Feb 10
TEDDY TODAY
deutsch>>
TEDDY goes to Turkey
Guest Column by Ipek Ipekcioglu

Queers from Turkey in Germany

Turkey is a land of paradox. Growing up with "Sonne der Nation", ("Sun of the Nation") the gay Singer Zeki Müren, the m-to-f transgendered singer Bülent Ersoy or the effeminate singer Devran Caglar, one would suppose, homosexuality and transsexuality would be sort of normal in Turkey. But in Turkish theatres, movies like "GORA" and "Kahpe Bizans" make fun of the gay way of life. The films "Iki genc kiz," "Denize Hancer düstü," and "Düs gezginleri," makes women's love seem problematic in ways that is either very subtle or blatantly direct. "Dönersen islik cal" describes the platonic relationship of two outcasts, a man small in stature and a transvestite who makes his money working as a prostitute.

DIANA NAECKE interviews members of the TEDDY- Jury

Homosexuality and gay life are definite agendas in Turkey. That's the reason one wonders why Turkey is hardly represented in the Berlinale, not to mention the aspect for gay or lesbian films. Berlinale and primarily the Panorama section through the TEDDY-relevant film selection contribute to a certain extent to queer emancipation. Paying attention to the most important queer event, the TEDDY Awards, one might mistakenly believe that he or she lives in a homo-city.

Lesbians and gay men in Germany have reached a high status of emancipation. The societal climate has definitely changed for the better, more and more lesbians and gay men live self-confident and open. So, why again is there a contribution on the topic "TEDDY goes to Turkey – Queers from Turkey in Germany"? Is there a difference? What exactly distinguishes queers from Turkey in Germany from gays of German descent? What does it mean for gays from Turkey to be neither heterosexual nor a full member of the German majority? What does it imply for this group to experience both a coming-out in their home communities as well as in the dominant society? The fact is, gays from Turkey are hardly seen in public, and most of them live very isolated.

Gays from Turkey experience more discrimination, on the grounds of ethnicity, religion, sexual orientation, colour of his or her skin, and on basis of sex. As a result, they move along interfaces of racism, sexism and homophobia. The discrimination that they experience is multidimensional, this in addition to the general homo-adversity that homosexuals endure daily. They also have to fight structural disadvantages that they encounter as homosexual "foreigners," and which affect their judicial situation, as well as their status in society. In Germany, queers from Turkey are virtually non-existing within the rather heterosexual migrant community, their existence is being negated and they're viewed as sick. If by chance, they are discovered as humans who are assimilated in to the German dominant culture or if they seemed to have 'fallen' out of the traditional Turkish modus vivendi, then they are considered disloyal renegades of the Turkish community.

While gays from Turkey experience homophobia from their communities, at the same time, gay men and lesbians confront




TEDDY GOES TO TURKEY
Each day guest columnists from different regions tell their stories and explain the political situation for queer people in their native country.

them with racism and give them the feeling to be exotic (in the negative sense), meaning not belonging or different. As a way out, most gays from Turkey live their homosexuality exclusively in the German gay community.
In order to have contact with the lesbian-gay community, most leave out an important part of their very self, that is to say their non-German aspects of identity. That's why it is important that groups exist and publicly appear that consist of Turkish lesbians, gay men, and transgender people. That way they will be present for others, because the existing homophobia and condemnation in migrant communities makes it even harder for the gay Turkish community to find their own identity.
The already existing immigration projects have to change both their points of view, as well as their actions in a positive way when dealing with homosexuality. At the same time, their projects should open up for queer people. They should go over their concepts and offer informative meetings.
On the other side, gay German and lesbian projects should look at existing structural discrimination and racism among themselves; they should empathize and question their attitude towards "homosexuals versus foreigner". Projects for lesbians and gays need to include the daily realities of gays from Turkey. Together with us they should offer developmental and psychological advice, such as a non-profit counselling center to offer competent advice by and for gay from Turkey.
The already existing groups by and for queers from Turkey should interact and build a roof organization for a productive cooperation.
In this respect, GLADT and other interregional forums, like the internet portal www.delidivane.de and MASHALLAH in Essen are very important.
Gays & Lesbians aus der Türkei Berlin-Brandenburg e.V.
Kluckstraße 11
10785 Berlin
Mobil: 0176 / 2805 3333
0049 (30) 2655 6633:
info@gladt.de
www.gladt.de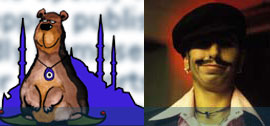 Today´s Column by IPEK IPEKCIOLU