Sat, Feb 17
TEDDY TODAY
deutsch>>
TEDDY "Party-Geflüster"
Guest Column by Karin Schupp

The evening of the TEDDY Awards is the moment of the Berlinale to slowly leave the cineastic twilight zone. Sure: on each Berlinale evening there are parties to blow your mind full of film images (or to take in the first meal of the day). Usually, one feels a certain tension in the room: there are people you want to meet, an article is not done yet, and if you want to see next morning`s nine o`clock screening at the Berlinale-Palast, you should go home soon…

At the TEDDY Awards everning, however, everybody's work is basically done. Now is the time to relax a little and meet people; only the TEDDY correspondents yet have to write their articles (no, I am not complaining!), and for sure there are some cinema maniacs and fanatics who, for the sake of completeness, can't help themselves but have to go to the movies again the next day.

For a long time, with Hangar 2 at airport Tempelhof we had a thrilling TEDDY location. I am not just saying that because I live right around the corner in walking distance. The huge hall was simply impressing and, finally, big enough for the huge crowd that had travelled some distance to be there. In the past years there were times when they were stepping on each others feet.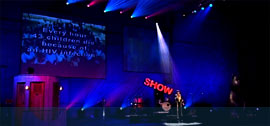 TEDDY AWARD 2007 THE CEREMONY



Behind the red carpet a bigger group of photographers gathered, as appropriate for such an event, the hostesses welcomed everybody friendly. A little irritating, however, were their uniform geisha dresses – did the party have an Asia-theme? Was there a special Asia linkage at the Berlinale that I missed? Or was it the only extraordinary outfit available at the hostess rental?
Thanks to a undoubtedly perfect organization (or was there some kind of secret agreement?) the numeous celebraties didn't rush into the hall all at once but in a minute cycle one after the other.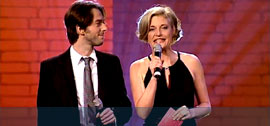 Gustav Hofer und Annette Gerlach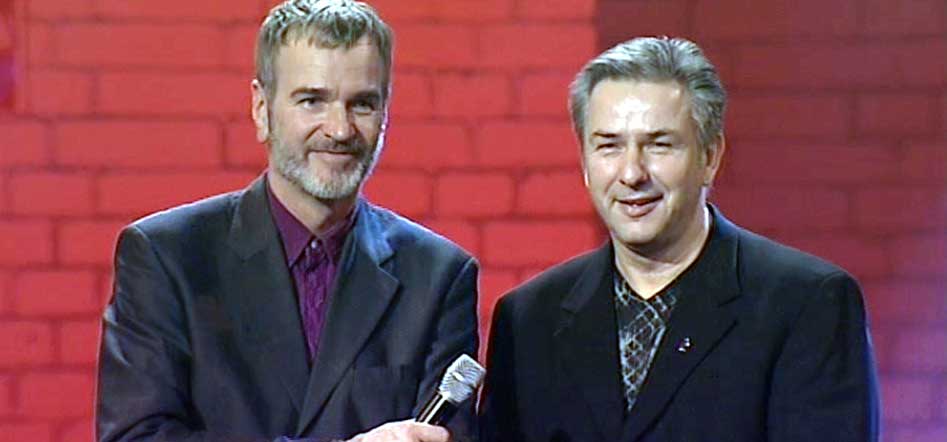 Wieland Speck mit Klaus Wowereit
Among the guests were a lot of longtime friends of the TEDDY-Awards: Berlin`s gay mayor Klaus Wowereit, casually dressed in blue jeans, Green`s boss Claudia Roth in impressive highheels, former Berlinale-head Moritz de Hadeln (Dieter Kosslick, who traditionally drops by later had to excuse himself totally for this year), Rosa von Praunheim with a magician`s hat, Albus Dumbledore would have envied her for (what is it with Rosa and her headdress?), Judy Winter, Marianne Rosenberg, Zazie der Paris, Pierre Sanoussi-Bliss ("Keiner liebt mich"), Victor Schefé ("Bewegte Männer", "Mein Führer"), soap-star Laurent Daniels ("Schmetterlinge im Bauch", "GZSZ"), former "Liebe Sünde"-moderator Mo Asumang with girlfriend, and former Sat.1-talkmaster Peter Imhof.

"Lindenstraße"-star Georg Uecker, showing up in this year's red Berlinale-suit, was one of the few, who refused to have their obligatory picture taken in front of the photo wall – even the cheering remarks of a photographer "Come on, Georg, at least you are handsome" wouldn't make him change his mind.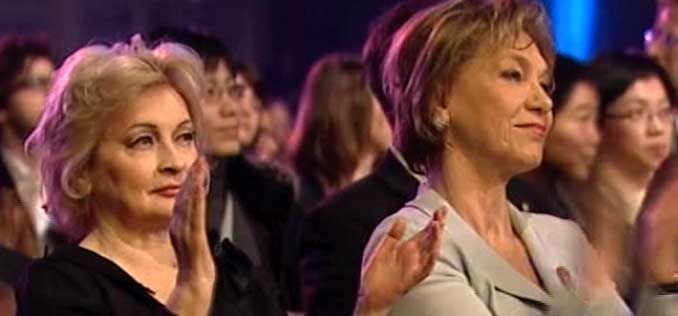 Ingrid Caven und Judy Winter
Encircled by boulevard cameras at all times, Ades Zabel took a bath in the crowd (just as we know him: dressed in the outfit of the cultivated Neuköllner theater community), as well as Daphne de Bakel, Biggy van Blond and several other drag-colleagues.
But, no doubt, the most beautiful women that evening were Fassbinder-muse Irm Hermann – they made 24 films together – and TV-entertainer Barbara Schöneberger, who posed in front of the photographers for several minutes in very good temper and gave interviews afterwards.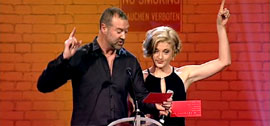 Alex Taylor with Annette Gerlach

Almost on time the gala began - and the Berliners were buttered up. The British Alex Taylor, star of the French gay and lesbian station Pink TV, complimented Berlin for being "Europe`s sexiest city" and handed the new viewer's award "Teddy Ballot" to "Notes on a Scandal," which was kind of disappointing taking into account that neither Judi Dench nor Cate Blanchett were present. Solely a representative of the film distribution made his way over. Let's hope the production will donate the prize money of €3,000.


TEDDYAWARD.TV zeigt die Höhepunkte der TEDDY AWARD CEREMONY 2007:


The night before, at a different ceremony, another TEDDY viewer's award was handed out, voted for by a jury made out of readers of the magazines "Siegessäule," "L-mag" and "Du+Ich." No other than Jasmin Tabatabai gave the "Else" to the Israeli movie "The Bubble."

Taking up the competition, the TEDDY-gala nominated Javier Bardem as godfather of the prize. The Oscar-nominated actor, who played the gay author Reinaldo Arenas in "Before Night Falls" handed the TEDDY for the best documentary to "A Walk Into the Sea." Moved to tears, director Esther B. Robinson began her speech with "I've never seen so many sexy people in one room" and expressed her opinion, that her uncle Danny Williams, (the film was about his experiences in the Warhol Factory) would have been thrilled about all these sexy men in the hall.



TEDDYAWARD.TV broadcasts highlights of the TEDDY AWARD CEREMONY 2007: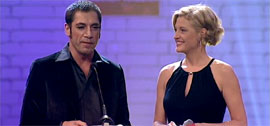 JAVIER BARDEM and ANNETTE GERLACH
And, all of a sudden, the Asia dresses of the hostesses made perfect sense: the award for the best movie, handed over by Victor Schefé and the Spanish director Isabel Coixet, went out to the Taiwan film "Ci-quing – Spider Lilies", beating the other nominees "The Itty Titty Bitty Committee" and "Hu-hwai-ha-ji An-ah."
Der TEDDY für den BESTEN SPIELFILM geht an: CI-QING (Spider Lillies) von Zero Chou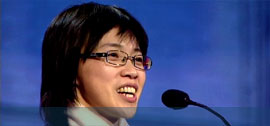 Zero Chou
Good! A lesbian film won although the lesbians were underrepresentated on stage as usual (at least host Annette Gerlach, who led through the program with Arte-colleague Gustav Hofer, tried to refer to her lesbian sister!).
LA LEÓN by Santiago Otheguy
And it is a good thing the gala gave some space to topics like HIV and violence against homosexuals: Klaus Wowereit sent solidary greetings to the lesbians and gays in Moscow – one of the Gay Pride-organizors was introduced to him a few of minutes before - and the Green gay activist Volker Beck called upon the audience to travel to Moscow this year. It's a pity, these contributations were held primarily in German.
Der TEDDY für den BESTEN DOKUMENTARFILM geht an A WALK INTO THE SEA: DANNY WILLIAMS AND THE WARHOL FACTORY von Esther B. Robinson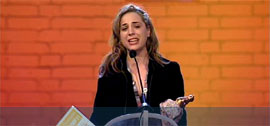 Esther B. Robinson
As announced surpise act, Ingrid Caven, actress, chanteuse and ex-wife of Rainer Werner Fassbinder, sang two of the componist Peer Raben's songs who died on January 21, 2007. Lucy van Org and her band "Übermutter" – five women with long hair and a bald, topless guy – provided for some discussion. "Ina Deter of S/M" commented my neighbor to the right, while my neighbor to the left didn't go that far back in music history with her remark "Rosenstolz meets Rammstein."
Der TEDDY BALLOT Volkswagen Zuschauerpreis geht an: NOTES ON A SCANDAL von Richard Eyre
The climax was reached with Helmut Berger ("Dorian Gray", "Ludwig" and in ten sequences of "Denver Clan" the guest part Peter De Vilbis), who received the special TEDDY in a much less excentric way than the host-duo obviously feared – he didn't even have a speech prepared. "I am happy, the Germans woke up after 40 years and gave me a prize," he said, and: "You are crazy to give me a prize."
Underneath the tunes of Keith Tynes and Band, the gala came to an end at midnight – too bad the majority of the audience didn't listen to the great performance but preferred to go to the bar, the bathrooms or the dance floor.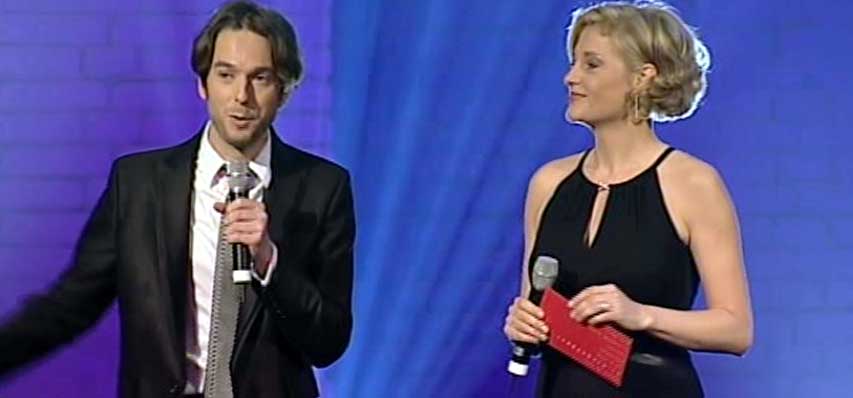 die Moderatoren des Abends: Gustav Hofer und Annette Gerlach
Me myself, I took it easy as well, enjoyed my canned prosecco (with straw, just as Paris Hilton supposedly sips) turned on my promi-scan only every once in a while. Nobody could confirm that sexy Berlinale-jury member and Almodóvar-star Gael García Bernal ("La Mala Educación") walked by me later that night – either they were looking the other way or they mistook him for Gabriel García Márquez…