Thu, Feb 8
TEDDY TODAY (Page 2)

deutsch>>
Column by Andrea Winter

The TEDDY AWARD

This is the only queer film award ceremony that is affiliated with an internationally renowned festival. This affiliation between Berlinale and the TEDDY awards is celebrating its 21st birthday this year. Our TEDDY is ecstatic about his "Vollbärigkeit, (as German bears call reaching adulthood). However, his happiness is disturbed when he thinks of all his friends around the globe who can not celebrate with him due to homosexuality being prohibited by laws in many countries. In Saudi-Arabia and Iran homosexual love results in the death penalty. In Iraq, gay men are being systematically murdered by the militia. Lesbians and transgendered human beings are virtually non-existent in society. These type of laws are not only in Arab countries, they exist also in Southern Africa, large parts of Latin America, and in Asia.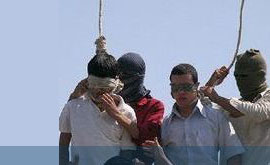 Execution of Gay Teenagers in Iran
16 years old Mahmoud Asgari and 18 years old Ayaz Marhoni were publicly executed in Iran on 19 July 2005 for the 'crime' of homosexuality The youths were hanged in Edalat (Justice) Square in the city of Mashhad, in north east Iran. They were sentenced to death by Court No.19. Prior to their execution, the teenagers were held in prison for 14 months and severely beaten with 228 lashes. "According to Iranian human rights campaigners, over 4,000 lesbians and gay men have been executed since the Ayatollahs seized power in 1979. "Altogether, an estimated 100,000 Iranians have been put to death over the last 26 years of clerical rule. The victims include women who have sex outside of marriage and political opponents of the Islamist government.
F A R S I>>>


For the first time, TEDDY cooperates with MERSI (the amnesty international subgroup for Human Rights and Sexual Identity) in order to support awareness for the difficult situations of lesbians, gays, bisexual and transgender people in these countries.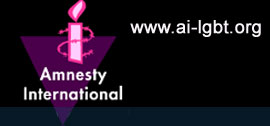 Around the clock, there will be four TEDDY Award TV-teams in use for film trailers and numerous interviews. Not only will there be TEDDY-movie highlights, but there will also be reports on the daily life circumstances and institutional prosecutions of queer human beings. Furthermore, TEDDY can see further than his own nose and asks guest columnists from all over the world to express their point of views regarding the Berlinale in a daily online-diary on this web page. Furthermore, TEDDY can see further than his own nose and asks guest columnists from all over the world to express their point of views regarding the Berlinale in a daily online-diary on this web page.
TEDDYAWARD.TV will focus on a specific topic each day. In columns like "TEDDY goes to Russia," "TEDDY goes to Arabia," "TEDDY goes to China," "TEDDY goes to Turkey," or "TEDDY goes transsexual," people from different regions will tell their stories, answer



interview questions regarding their coming-out, and explain the political situation for queer people in their native country.
We are especially happy to welcome two members of the TEDDY-jury 2006 as authors: Kimberly Yutani, programmer at Outfest in Los Angeles, which is the biggest and oldest queer film festival in Southern California; she writes "TEDDY goes to Hollywood", sharing her inside knowledge about Sundance Filmfestival and cinema in general.
TEDDY 2006 visited the Queer Filmfest in Djakarta, Indonesia, where former TEDDY-jury member John Badalu organized "Q!" which is the only queer film festival in any Muslim country and in "TEDDY goes to Indonesia" he will explain why his event was prohibited by law.
We are family – the queer all-time classic could be the anthem of TEDDY Award for 2007. Never ever has TEDDY been so globally active like today and never has the TEDDY family ever been so big. As a member of the Teddy's board of directors incorporated, I express my gratitude to all the people out there for making the TEDDYAWARD.TV possible, because of you, we will have a wonderful show online, that can be watched 24/7 from everywhere. "Thank you" to the production team, the sponsors and guest columnists of the TEDDYAWARD.TV for your terrific commitment!
After all of the productive work is done, TEDDY is looking forward to the many queer films that are worthy of seeing and then it is off to an exhilarating party, where TEDDY will pop the corks with his friends from all over the world in the airport Berlin-Tempelhof. Berlin Tower to all passengers: TEDDY takes off!
Today's Column by Andrea Winter