Teddy Award 2010
Welcome (Page 2)
deutsch>>
MY NAME IS HUMAN BEING- Our Motto 2010

On February 19, 2010 at 9pm it will again be time:
Under the programme of the 60th Berlin International Film Festival (11th - 21st February 2010) the 24th TEDDY AWARD, the world's most important Queer Film Award will be presented in a Gala Event followed by an After Party at STATION BERLIN.
The TEDDY AWARD is presented in following categories: Best Feature Film, Best Documentary, Best Short film, as well as the Special Teddy for artistic life's work given to an outstanding personality. In the list of former award winners extents from international directors such as Pedro Almodóvar, Gus Van Sant and Derek Jarman to international screen stars like Helmut Berger, Joe Dallesandro, John Hurt and Oscar winner Tilda Swinton.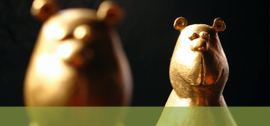 TEDDY AWARD Statue | photographed by TEDDY WINNER 2009 JULIAN HERNANDEZ
The TEDDY AWARD is a socially engaged and political accolade that goes to films and people who communicate queer themes on a wide social level and thereby contribute to more tolerance, accep-tance, solidarity and equality in society.
For the fifth time in a row, French-German TV broadcaster ARTE will record the ceremony and air it on February 20th 2010. rbb TV will rebroadcast the show on February 21st 2010, at 11.30 pm.
The 24th TEDDY AWARD pays special HOMAGE to RIO REISER, the singer, composer, songwriter and actor who died in 1996, for what would be his 60th year.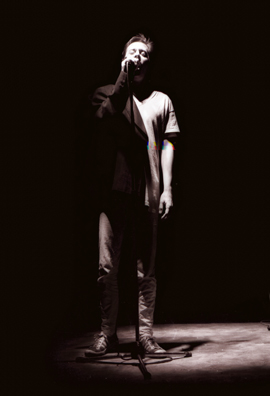 RIO REISER
"He is the only German singer that I admired, his passionate lust for commotion, for diva-dom, for kitsch and for anarchistic patriotism. He wrote the most beautiful German fight songs and love songs. He was a romantic and he sung, pulling everything out of the German language that is possible to get out of it."
Herbert Groenemeyer
Rio Reiser was the first German singer to publicly announce his homosexuality. Together with his band, Ton Steine Scherben, he created not only the soundtrack for the 68-Generation but also the soundtrack for the beginning of the German gay movement when he, along with theatre groups Brühwarm and Transplantis as well as Ton Steine Scherben, produced and brought the first gay musicals to the stage in the 1970s. in 1977 Rio Reiser was awarded the Deutscher Filmpreis (German Film Award) for his first film roll in "Johnny West".
On the occasion of the homage to Rio Reiser, the band TON STEINE SCHERBENwill be on stage with all the original members for the first since the death of their frontman. Furthermore, the motto of the 24th TEDDY AWARD comes from a song from Rio Reiser and the Ton Steine Scherben:

MY NAME IS HUMAN BEING



TICKET- AND INFO- HOTLINE PAPAGENA:
> > > > > +49 30 -4799 7447 < < < < <
The SPECIAL TEDDY 2010 goes to filmmaker WERNER SCHROETER, the radical experimentalist and great maverick of New German Film. Since the mid-sixties, Schroeter has worked and defended his unique position in the international film landscape.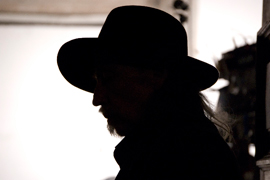 WERNER SCHROETER
"Schroeter is the Cocteau of our times. Cinema from Werner Schroeter is pure magic, it creates a new world, a new time, and lets nothing happen that is not stylistic and beautiful. Magic Werner, Magic Cinema."
Libération
He is to be counted among the likes of Fassbinder, Herzog or Wenders as one of the most important players in the emerging Young German Cinema. A cosmopolitan without a fixed residence, Schroeter shot in Mexico, France, Lebanon, Czech Republic, Austria, the USA and Italy in those days. At the same time he is beginning to intensify his work to stage theatre and Opera productions with international success.
His work so far encompasses around 20 feature films and just as many short and mid-length films and more than 70 opera and theatre productions.
UNAIDS, the Joint United Nations Program, is also once again the institutional partner of the TEDDY AWARD.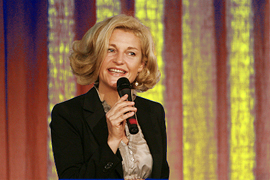 ANNETTE GERLACH
Host of the 24th TEDDY AWARD Ceremony
For the first time, the Gala and After Party will be a stone's throw away from Potsdamer Platz in the STATION BERLIN -- the former Package-Post Train Station at Berlin Gleisdreieck
24th TEDDY AWARD
19.02.2010 in der STATION BERLIN Luckenwalderstr. 4 – 6, 10963 Berlin
TEDDY AWARD CEREMONY at 21.00h
TEDDY PARTY, LOUNGE & MIDNIGHT SPECIAL at 23.00h
TEDDY PARTY - Tickets online.
Connection with metro U1 and U2 to station U-Bahnhof Gleisdreieck
Sufficient parking in the parking garage at Gleisdreieck/Potsdamer Platz
Tickets sold in advance at all ticket offices