Teddy Award 2010
Film Gallery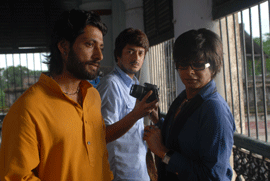 Aarekti Premer Golpo
In JUST ANOTHER LOVE STORY noted Bengali director Rituparno Ghosh plays a transsexual filmmaker. Ghosh's character, Abhiroop Sen, is a documentary filmmaker from Delhi. He is in love with the director of photography of a documentary film on the celebrated Jatra actor Chapal Chaduri, now 75, who plays himself in the film. Rituparno: »The film makes us realise that taboos about sexuality haven't changed that much. This film will lead to a very important cultural conversation. One can't sit complacently and wait for a change in society.« Ghosh's film LADY OF THE HOUSE was in the BERLINALE 2000 FORUM.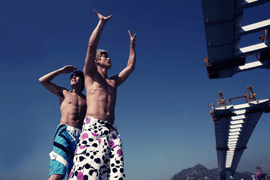 Amphetamine
Kafka (Byron Pang) is as beautiful as Michelangelo's David and works as a swimming instructor. He lost his father early on and is losing himself. After a fight with his girlfriend, he meets Daniel, a handsome banker. Daniel chauffeurs him around in a sports car and takes him bungee-jumping from a bridge. Kafka sees light on the horizon because Daniel is the first person in a long time with whom he can be open. The love that Daniel gives to him, is unconditional, but it is accompanied by Kafka's fears. He is raped by a street gang and has a cavity-search from a brutish customs agent. He can hardly permit himself to have sex with Daniel and when he sleeps with Daniel's girlfriend, he is plagued by guilt. The long, difficult path leads Kafka to himself. AMPHET AMINE is, after PER MANENT RE SIDENCE , part two in an autobiographical trilogy from Scud.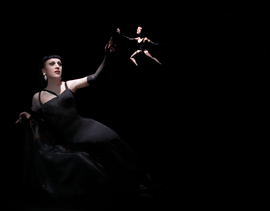 Arias with a Twist
Joey Arias ennobled the performance art of being a drag queen. Arias is a personage who stood for the connection between the avant-garde and pop music as well as the revival of Billie Holiday's divine voice. Joey was Andy Warhol's muse. Klaus Nomi, David Bowie and Iggy Pop performed with Arias, who made a name for himself in Las Vegas as the »Mistress of Seduction«. »Arias with a Twist«, his show with puppeteer Basil Twist, is the focus of this film.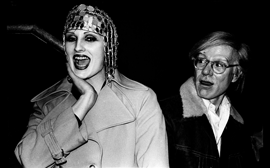 Beautiful Darling
Few shone as brightly in the 1960/70's, as the transgender pioneer Candy Darling. Andy Warhol discovered her and cast her in his films; Lou Reed wrote two songs about her and Tennessee Williams wrote her a starring role in one of his plays. Interwoven with Candy's story is the story of Candy's dear friend Jeremiah Newton, who kept her belongings and her cremated remains in his New York City apartment for over thirty years, unable to say goodbye. BEAUTIFUL DARLING: THE LIFE AND TIMES OF CANDY DARLING, ANDY WARHO L SUPER STAR follows Jeremiah as he travels to finally bury Candy …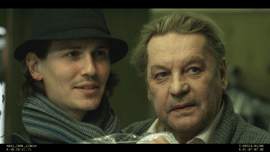 Blutsfreundschaft
Sixteen year old Axel has a problem at home and is kicked out of school. On the streets he meets a Neo-Nazi Gang. To get recognition, he has to go through dangerous rituals and humiliate people. When his new friends provoke him to murder, the situation explodes. After the attack, Axel hides out in a laundrette. The owner, Gustav Tritzinsky (Helmut Berger), an eighty year old homosexual, takes the youth in because the boy reminds him of his great love, whom he betrayed to the Gestapo during the Nazi-Era. Axel's new gang is anything but understanding of the friendship that develops between the odd couple. Before his acting carrier, Kern was a member of the famous Wiener Knabenchor and later acted for directors like Fassbinder, Wenders, Zadek and others. In 1978 Kern founded his own film production company and has made many of his own films and documentaries since 1980.
Covered
2008, the opening of the first QUEER SARAJEVO FESTIVAL was closed down by a violent mob, that accused the organizers of blasphemy. Eight people were hospitalized, and the festival was cancelled. COVERED profiles the courage of the four women who organized the festival, and explores the complex politics that inform contemporary Bosnian society, still struggling with the demons of the war. John Greyson is a two time TE DDY AWARD winner (1989 and 2009).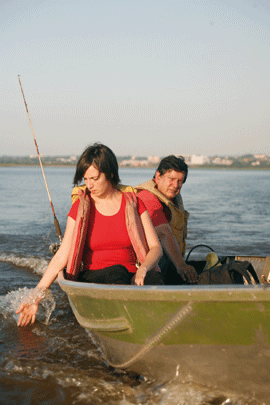 Cuchillo de Palo
»Rodolfo was the only one of my many uncles who wasn't a blacksmith like my grandfather. Rodolfo wanted to be a dancer.« This film takes up the hunt for clues about the life of Rodolfo, the Paraguayandirector's uncle. Along the way, she finds out that Rodolfo's name is on a list of 108 homosexuals that were imprisoned and tortured by General Stroessner's dictatorial government in the 1980's. »Rodolfo's story unveils a piece of the deathly silent history of my country.« During the dictatorship and in the 15 year transitional period, 336 people disappeared, 20.000 were arbitrarily arrested, 18.000 tortured and at least 59 executed. Rodolfos dead body was found when the director was a child. When she asked her parents why he died they said, »From Sadness.«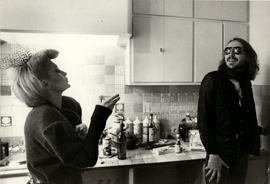 Daniel Schmid
Daniel Schmid grew up as the child of a swiss hotel family in the village of Flims. It is surrounded by snow covered hills and visited by exotic guests from the world over. He already knew as a child that the world started behind Flimsstein Mountain, a world between Swiss reality and the longing for fiction. Using his imagination, given wings by the stories of his grandmother, he discovers the art of telling tall tales at an early age, using the hotel great hall as his stage. The film takes us on an overpowering cinematic journey with the people and to the places that Daniel Schmid has a connection to and into the film world of one of Switzerland's most unusual directors.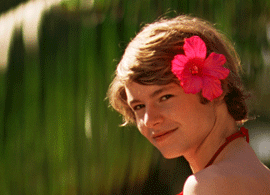 Franswa Sharl
Twelve year old Greg inherited the competitive spirit of his father. During a family vacation, both have the chance to express their differences. While the father pushes the son into a swim contest, Greg prefers to practice at playing telephone pranks and dressing in drag. The father is hoping mad about Greg's passion, but Greg tries at reconciliation by entering a beauty contest for women. The film is based on a true story.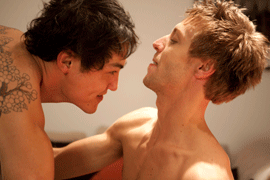 Fucking Different Sao Paolo
This is the fourth film of the conceptual series FUCKING DIFFERENT , produced by Kristian Petersen. The first was shot in Berlin (2005), the second in New York (2007), the third in Tel-Aviv (2008) and the new one in São Paulo. Twelve stories and eleven filmmakers, women address the gay world and men address the lesbian universe …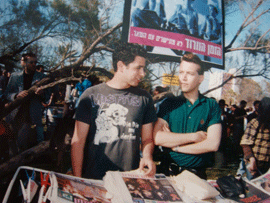 Hazman havarod
In 1985 there were three known homosexuals in Israel and by 1998, 3000. In this short, intense and dramatic period Israel goes through the fastest, most colourful revolution of the late 20th Century. Not a bloody revolution, rather a coming together of academics, prostitutes, transsexuals, singers, hairdressers and army officers, marked by personal tragedy, hopes, challenges, setbacks and sudden breakdowns. Director Yair Quedar, ex-soldier and then member of the movement followed the revolution in his newspaper »The Pink Times«. Using rare archive material, personal accounts, moving scenes and journal entries, the film tells the until now untold story of the LGBT-Revolution in Israel.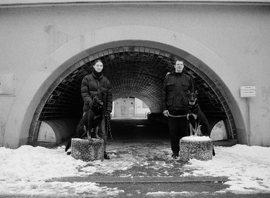 Geliebt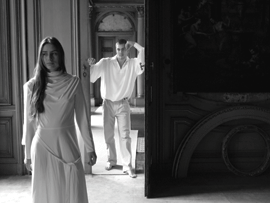 Variations of Genoveva
»one could go about a concert or opera evening differently. especially in order to attract a young audience.« For the Belgian experimental fi lmmaker eric de Kuyper (cAStA DIVA, nAUGhtY BoYS, A StrAnGe LoVe AFFAIr, PInK ULYSSeS), opera is undead – not quite living, but not quite dead. he sees a possibility to resurrect opera in the performance arts. GenoVeVA remains robert Schumann's only opera. In black and white images, eric de Kuyper tries to expose Schumann's musically failed attempt to express sexual passion and appetite … GenoVeVA is a fi lmic part of a live performance that will premier in the Leipzig Gewandhaus.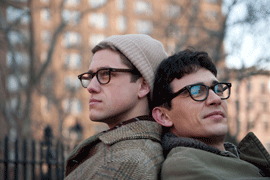 Howl
San Francisco 1957: a poem is put on trial for obscenity. This film of the same title as the American masterpiece by Allen Ginsberg, first follows the young poet's struggle to find his voice as an artist in New York City. It continues with the trial against Lawrence Ferlinghetti and Ginsberg for publishing the piece that refers to drug abuse and homosexuality. Rob Epstein and Jeffrey Friedman are best known for THE TIMES OF HARVEY MILK, which one the 1984 Oscar for Best Documentary. PARAGRAPH 175 won the TE DDY for Best Documentary in 2000.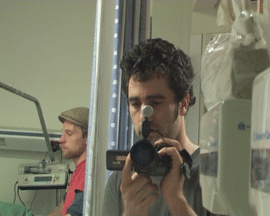 I Shot My Love
Over 15 years, Tomer Heymann has made a film portrait about the men in his life, his family and the development of his country. From a personal perspective and with humour and sensitivity, he shows the maturation of a 40 year old man, his family and his country, the actions of which he does not always agree with. Heymann uses old 8mm material, revealing intimacy and occasions from his private life. The film was shot with a small video camera that transmits a great deal of intimacy to the audience.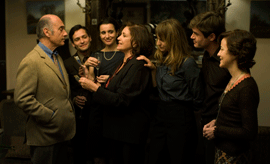 L'arbre et la forêt
The story of Frédéric (Guy Marchand), a tree planter who has been harbouring a secret for almost 60 years. Only his wife and eldest son know the truth about his past. The death of his son – with whom Frédéric had a difficult relationship – leads him to finally reveal his secret to his close relations. At the age of 20, Frédéric was deported by the Nazis and imprisoned in the Schirmeck concentration camp, in the Vosges, for homosexuality. After the war, he got married, hoping to bury this story forever. Ducastel & Martineau's JEANNE AND THE PERFECT GUY was in the BERLINALE COMPETITION in 1998 and their FUNNY FELIX and COCKLES AND MUSCLES in the 2000 and 2005 PANORAMA.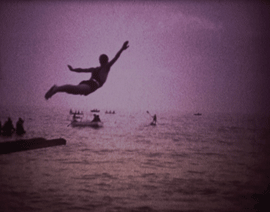 La Bocca Del Lupo
Enzo returns to Genoa after 14 years of imprisonment. He goes about the city, which has changed after many years. In a little house in the old town ghetto, his companion Mary waits for him. They exchanged letters and messages while he was away. This poetic portrait of a criminal and his transsexual partner is at the same time a portrait of Genoa, especially the areas shaped by immigrants. Pietro Marcello's documentary poem won the International Film Critic's Prize for Best Film at the 27th TORINO FILM FESTIVAL 2009.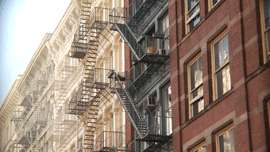 Last Adress
Keith Haring, Robert Mapplethorpe, Norman René, Klaus Nomi … the list of New York artists who died of AIDS over the last thirty years is countless, and the loss immeasurable. In Last Address, filmmaker Ira Sachs uses images of the exteriors of the houses, where these artists were living at the time of their deaths to mark the disappearance of a generation. This mournful film is both a remembrance of that loss, as well as an evocation of the continued presence of their work in our lives and culture.