Teddy Award 2010
Film Gallery (Page 2)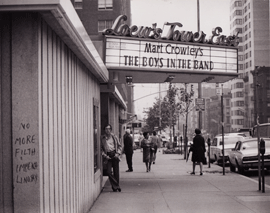 Making The Boys
Mart Crowley's THE BOYS IN THE BAND (1968) belongs to the seminal artistic works for the gay community. For the first time gay men were not presented as victims or pathetic losers, loners or as societal waste, but rather as people like you and I. Together with Mart Crowley, who leads the audience through fireworks of historical film snippets and interview bits, Crayton Robey traces the phenomenon of success and the protagonists of that time.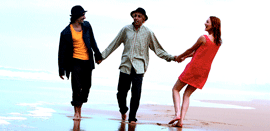 The Man Who Sold The World
X is happy in a war torn apocalyptic world where happiness seems but a dream. He is in love with Lili and wants to marry but two things stand in their way. First, X must finish his work for Mr. M, his boss in the ominous government agency. The same government must also give him permission to marry. His bosom buddy Ney, who X loves like a brother and who loves him back, may be able to help. Ney fears for his friend's sanity and tries to encourage this man breaking under the weight of his own vision of universal happiness. Based on Fjodor Dostoyevsky's »A Weak Heart«, this aesthetic film is the second for brother filmmakers Imad and Swel Noury. Said Bey won Best Actor in the DUBAI INTERNATIONAL FILM FESTIVAL for his performance as X.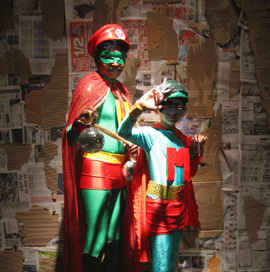 Masala Mama
Seng, the son of a »Ragman« comics collector, would like to draw comic book super heros, to the distress of his father. In order to learn, he picks up comic books. The day he steals one from a mom and pop store, he is caught by a police officer. The storekeeper helps Seng out of trouble, but trouble seldom comes alone: Seng's father suddenly shows up at the Indian shop and sees his boy hanging around with the gay storekeeper. Seng has only one more way out, to flee into fantasy … Michael Kam took place in the 2009 BER LINALE TALENT CAMPUS where the idea for this film was formed.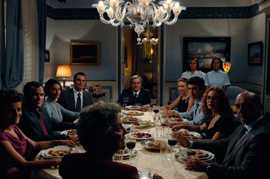 Mine Vaganti
Tommaso, an aspiring writer, is the youngest child in the large, eccentric italian family who owns a pasta factory in Puglia. He has come home from Rome for an important family dinner at which his father will hand over the management of the pasta factory to him and his brother. Determined to assert his own personal choices, Tommaso plans to announce at the dinner that he is gay. But that evening, just as he begins to say »silence please«, he is upstaged by his brother who, to Tommaso's surprise, and everyone else's shock, announces he is gay. The Turkish-Italian Director Ferzan Özpetek (HAMAM) is considered to be an important member of New Italian Cinema. His film THE IGNORANT FAIRIES was nominated for a GOLDEN BEAR in the 2001 BERLINALE.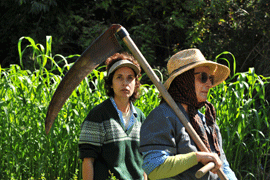 Nacidas para sufrir
Flora, 72, is an old maid in a small village, who has devoted her whole life to caring for her elderly relatives. Her older sister died when she was very young, leaving her three nieces to bring up. Having grown up, the three left the village and now Flora is apprehensive because the time has come when they will have to look after her, and she is afraid they will put her in the old folks' home where one of them works. Her only salvation is Purita, a young woman … BORN TO SUFFER is a story that attempts to revive the tradition of the black humor and studies of local customs and manners so typical of 1960s black and white Spanish comedies.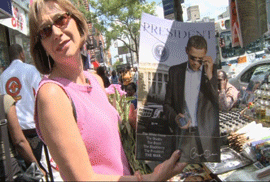 New York Memories
This film is a very personal travel back through time for cult director Rosa von Praunheim. Twenty years after his most successful cinema feature, SURVIVAL IN NEW YORK, he takes up the search for the two main actors from back then, Anna and Claudia … The journey is not only Praunheim's personal look back, it also tries to understand the last forty years: The 70's sex parties, wild protests and eccentric Warhol superstars; the tragic 80's of the AIDS epidemic; the 90's in which Praunheim filmed the outcry from transsexuals who wouldn't put up with being raped and murdered …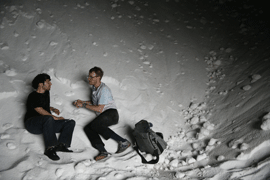 Open
The young hermaphrodite Cynthia (Gaea Gaddy) meets Gen (Tempest Crane) and Jay (Jendeen Forberg), a couple recovering from plastic surgery. She learns of Pandrogony, in which two people merge their facial features making one unified entity from separate ones. Inspired by this, Cynthia abandons her husband and suburban life to embark on a road trip with Gen through the remnants of 20th century America. Simultaneously, a young transman meets a young punk, Nick (Daniel Luedtke), and they fall in love.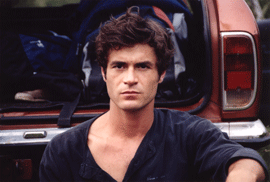 Plein Sud
Sam is driving south. Three difficult passengers travel with him: Léa, her constantly filming brother Matthieu and the good looking Jérémie. The three youths – in the hight of their adolescence – begin to rouse the normally introverted man. In parallel the film tells the story of two children who subjected to the madness of their mother's alcoholism and their father's suicide. Little by little we get an idea of Sam's despair, which seems to be mirrored in his encounter with the youths … Sam decides to leave the three behind at a bus stop. The trip south could lead him anywhere: to a deep love, into the next tree or to a reckoning with his mother in Spain. »For the beauty and honesty of his stories as much as the sensitive portrayal of his characters« in the film WILD SIDE, director Sébastien Lifshitz has already been awarded with the 2004 TE DDY AWARD.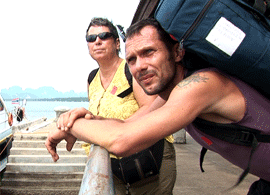 Postcard to Daddy
In POSTCARD TO DADDY, Michael Stock documents his process of coping with childhood sexual abuse that went on for years, perpetrated by his own father. Without stigmatizing the »perpetrator«, the author shows the circumstances and consequences that his family and friends experienced from their perspectives as well as the whole sensitive sociopolitical family drama. Thus the film is not driven by anger and hate, rather by openness, hope and love for life. Michael Stock doesn't want to accuse, rather he wants to understand. With this video message – the »Postcard to Daddy« – in his hand, he visits his father to confront him with their common past and to finally find peace. Michael Stock lives and works in Berlin as an actor and director (FUCKING DIFFERENT !, HÖLLELAND).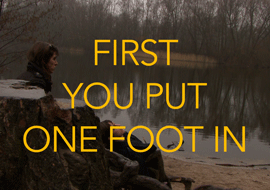 Return Return
Israeli film artist Lior Shamriz conceived RETURN RETURN as a moving picture. This experimental film collage is the meeting of two contextually different pieces. The soundtrack is from Caroline Bergvall and the slowed down film extracts from Shamriz's SATURN RETURNS. By working with these two different contexts, Shamriz forces the observer into an analysis that is founded in the story of the film: The conscious perception of single images. From a minute long film, Shamriz creates a 26 minute long rain of images that takes on its own poetic character with the help of the soundtrack.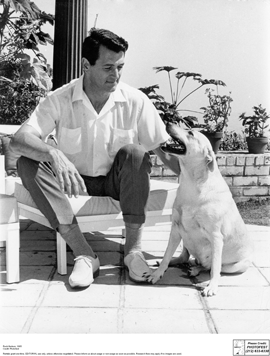 Rock Hudson
Rock Hudson is among the most popular Hollywood actors of the 50's and 60's. Hudson was one of the first prominent people to die of AIDS. This year he would have been 85. The film is about the homosexual Rock Hudson, whose whole life was spent between two worlds. To the outside world, he was the good looking heterosexual man. In his private world, however, was the forbidden sexuality of a gay man. He was forced to lie. Acting is the art of convincing an audience that you are who you are playing … The film is comprised of interviews from family members, fans, colleagues, and film experts as well as excerpts of his films and documentary recordings.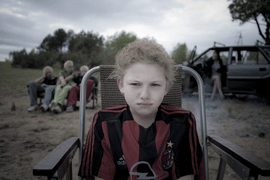 Siemiany
Andrzej and Michal spend their vacation together every year in Siemiany. They pass time by catching tadpoles, swimming and exploring their sexuality. Their friendship is challenged by 14 year old Agnieska. Michal is very attracted to her. Andrzej is either not old enough or just is not interested in Agnieska. Michal's older brother and his bleach blond gang invade the boys' holiday paradise. Andrzej senses that he is not missing anything by going his own way. Born in Warsaw in 1987 Philip James McGoldrick has made his first film with SJEMIANY.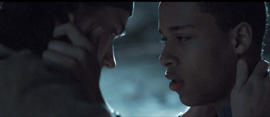 Shahada
This episodic film about three young muslims in Germany was shot in Berlin. Ismail, a Turkish police officer, can't cope with a dramatic accident involving his firearm. He leaves his wife and daughter to atone for his supposed guilt. Samir is a young man from Nigeria. It's becoming ever more difficult to deal with his nascent homosexuality in the light of his muslim beliefs. Maryam is the daughter of a Turkish cleric but orients herself towards western culture. Their world views are in continuous conflict. After a traumatic experience, everything is switched around. Each of the three main characters are caught in a crisis of faith which puts their cultural and religious values into question. SHAHADA is the product of four young talents from the Baden-Württemberg Film Academy and the HFF Potsdam studying direction, camera, production and production design. This will be their final project.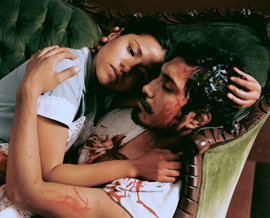 Soy mi Madre
Roaring Fork Valley, a region in Colorado in the western US: Glasgow artist Phil Collins studies the immigrants, who mostly come from northern Mexico and often work in the service branch. Most of them work at the most popular winter resort in the USA: Aspen. Inspired by Jean Genets DIE ZOFEN (Theatre of the Absurd, the Surrealist) and from the melodrama of Latin American telenovelas, SOY MI MADRE is a portrait of the social reality of this region. Collins reproduces the telenovela on in his very own radical, artistic way. He works with popular Mexican television actors (like Patricia Reyes Spindola, Zaide Silvia Guiterrez, Veronica Langer and Salvador Parra) and with transsexual prostitutes from Mexico City.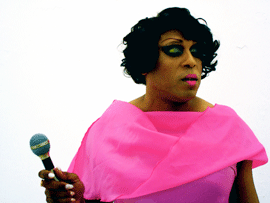 The Dream of Norma
Telémacos Alexiou's video installation THE DREAM OF NORMA translates principal cinematographic parameters like stillness/movement, depth/flatness, black/white into a reduced and lusty duality. On three screens, a dancing duel unfolds between Norma (Vaginal Davis) and a phantom masked in black (Telémacos Alexiou). It is a ceremony of temptation, a erotic courtship in a blinding white, »unmarked room« (Deleuze); a room free from all spacial coordinates. The dancers' bodies are transformed into graphic forms. Telémacos Alexiou uses choreographed camera and bodily movement to recreate personal experience and ask questions about identity.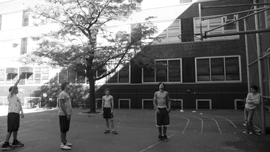 The Feast of Stephen
tephen watches a group of boys playing basketball. The look in his eyes betrays his sexual interests. When the boys realize, he becomes a victim of their homophobia. Or does it only seem so? THE FEAST OF STEPHEN is based on a poem by the same title, written by american poet Anthony Hecht. The peom stayed with James Franco since he read it for the first time. In order to visualize the feelings that had been triggered in him, Franco was geared to Kenneth Anger´s rebellious shortfilm SCORPIO RISING, which in 1964 stilistically, aesthetically and thematically made cinematic history.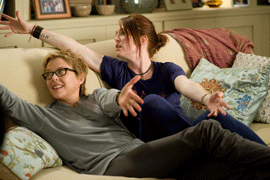 The Kids Are Allright
A Lesbian couple, Nic (Annette Benning) and Jules (Julianne Moore) live with their teenage children, Joni (Mia Wasikowska) and Laser (Josh Hutcherson). Laser wants Joni, now 18, to help him find their biological father. Against her better judgment, Joni honors her brothers' request and manages to make contact with their father Paul (Mark Ruffalo). Two children conceived by artificial insemination bring their birth father into their family life and an unexpected new chapter begins for them. Director Lisa Cholodenko made her mark on the independent film scene with her examination of sexuality, ambition, and heroin chic in HIGH ART (1998).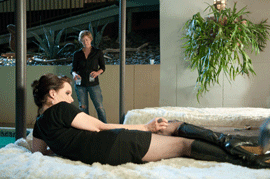 The Owls
THE OWLS is an anthem for Older Wiser Lesbians, a community for 35 and up lesbians in Brisbane. They all have the same vision of a Lesbian Nation. They've reached middle age without fulfilling their dream of a revolution. The dominant hetero-culture has no place for them, and their story doesn't have anything more in common with the following generation of lesbians and queers. With four OWLs, director Cheryl Dunye has made a thriller about older lesbians who kill a young lesbian and must get rid of the body. The film is in the tradition of Patricia Highsmith's works and the psychological dramas of the 1960's (THE FOX, KILLING OF SISTER GEOR GE), in which lesbians were often killed. Cheryl Dunye (WATER MELONE WOMAN) is known for confronting the uncomfortable realities of women and for her biting commentary. THE OWLS is made in Dunyes signature style, a mix between narrative film and documentary.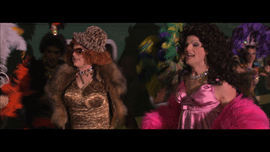 Veselchaki (Jolly Fellows)
An unconventional comedy about five men, who have chosen an extravagant lifestyle and job. They work as drag queens. Rosa, Lusya, Fira, Lara and Gertruda – under these names they bring down the house wearing their stunning outfits and overwhelming make-up on the nightclub stage. Neither in their lives, nor on stage, are these people alike. They are different ages and have characters, different tempers, habits and dreams. Different circumstances have brought these people together for a short while. The film is the first mainstream Russian film about drag queens in a country where gays still face an uphill struggle to have their basic rights recognised.