Wed, Feb 14
Ci-Qing
deutsch>>
On the wall of Takeko's studio is a picture of a mysterious tattoo of a golden spider lily (lycoris aurea) – the flower of death that lines the path leading to the realm of the dead. Jade is fascinated by this masterpiece, and decides that she too must have it. Friendly Takeko is reluctant.

Unknown to Jade, the image portrays Takeko's late father's tattoo; Jade also has no idea that the two women met once before, many years ago. Ten years previously, Takeko survived an earthquake that killed her father and put her young brother in a coma. He has been at a clinic ever since. At the time, Takeko decided to follow in her father's footsteps and become a tattoo artist.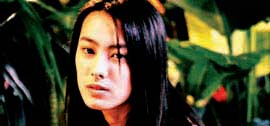 Ci-Qing
She took up her apprenticeship under the tutelage of tattoo master Sensei Yoshi and, before long, she wears her own private secret on her arm – the fateful spider lily – the last image Takeko's brother saw before falling into a coma. At the time, Jade was a great admirer of Takeko, and had told Takeko that she had lost her mother during the earthquake. But her lie was to put an end to their friendship. Now 18, Jade gives Takeko her visiting card.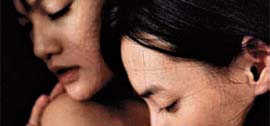 Ci-Qing
As soon as she returns from visiting her brother, who is still in coma, Takeko goes online to take a look at Jade's homepage. She discovers that Jade is not just a young student, but a webcam girl, who earns a living as a cybersex worker. Unwittingly, the two young women find themselves at the centre of a secret police campaign – about which neither Jade nor Takeko are aware.
Related Links

Screenings at the festival
Wed, Feb 14, 22:30 CinemaxX 7 (E)
Thu, Feb 15, 20:15 CineStar 3 (E)
Fri, Feb 16, 17:00 Cubix 9 (E)
Sun, Feb 18, 22:30 Colosseum 1 (E)