Teddy Award 2008
Welcome! (Page 2)
deutsch>>
TEDDY 22 QUEER FILM AWARD
Here at the TEDDYAWARD.TV you find - like in the years before - all around queer themes at the Berlin International Film Festival: Film Information - Trailers - Talks - Press Conferences - Daily News and Gossip - and the TEDDY Award Ceremony.
For the 22nd time the TEDDY QUEER FILM AWARDS were presented on February 14th 2008 at 8.30 pm.
By making gay, lesbian and transgender identities and lives visible through film we celebrated the vitality and relevance of international queer cinema at the Haus der Kulturen der Welt.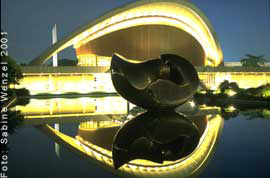 HAUS DER KULTUREN DER WELT
THE HOUSE OF WORLD CULTURES
TEDDY 22 Award Ceremony
February 14th 2008, 8.30 pm.
The most important price for gay and lesbian films on an international scale has been awarded in the categories of short, documentary and feature film. For the second time there was also a TEDDY audience choice award.
In 2008, two Special TEDDY Awards were given for special achievements in queer film culture.
Hans Stempel and Martin Ripkens received a Special TEDDY Award for their activities and achievements as film critics, film scouts and filmmakers. During their 50 years of living and working together they have committed themselves to the international cinema d'auteur and have themselves produced two films about gay live and history. This couple's biography is a symbol of a lifelong passion and a queer commitment to film often against the background and the structures of a homophobic film industry.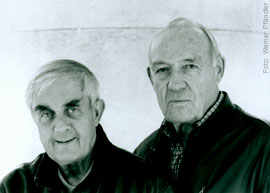 Special TEDDY Award winners 2008
HANS STEMPEL und MARTIN RIPKENS
Another Special TEDDY Award has been given to Tilda Swinton, James Mackay, Isaac Julien, Colin McCabe, Keith Collins and Simon Fisher Turner, who as a "family", as combatants and allies of British filmmaker Derek Jarman have looked after his heritage. The presence and availability of his works today goes back to a group of friends who not only preserved and archived his art, but also kept his spirit alive and continue doing so.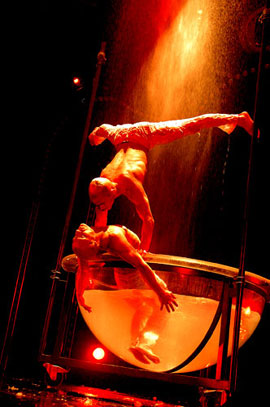 THE CAESAR TWINS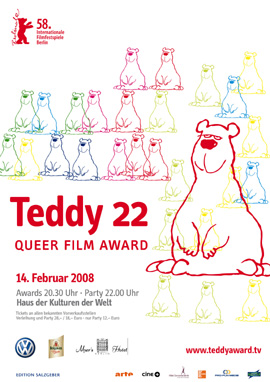 Plakat TEDDYAWARD 22


A queer film award in the context of an international film festival like the Berlin International Film Festival helps to make gay, lesbian and transgender identities and lives visible and by doing so blazes a trail. This is and remains the focus of this event which is organised by the honorary TEDDY charity and their supporters.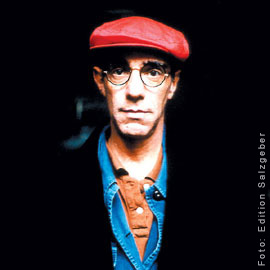 DEREK JARMAN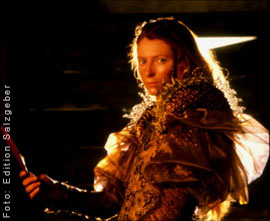 TILDA SWINTON
This year's Special TEDDY Award winner
Tilda Swinton is nominated for an Oscar.

Congratulations Tilda!
We're all keeping our fingers crossed and thumbs up for you!!!
In the confident and glamorous fashion that is expected of TEDDY, an international jury of queer film festival makers awarded those filmmakers, who – like Pedro Almodóvar, Gus van Sant, François Ozon and many others before – enrich the world with their queer films.


Like in the years before, French-German TV station ARTE will record the ceremony and air it on February 15th, at 11.25 pm.


The award ceremony, hosted by Annette Gerlach, came up with a great variety of music and show acts and international stars. A highlight of the Berlin International Film Festival was also the following after-show party that was supported by a huge part of Berlin's gay scene and has often been the centre of international attention.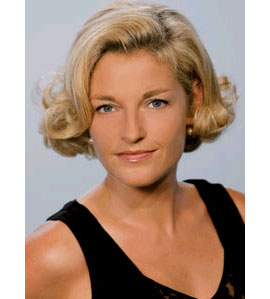 ANNETTE GERLACH