Teddy Award 2009
Welcome (Page 2)
deutsch>>

23rd TEDDY AWARD. . . .
. . . . AND THE WINNERS ARE . . . . .
Three films were nominated for each category and one received a TEDDY for best feature film, best documentary/essay film and usually the best short film, each with a cash award of € 3,000.>>>>>

For the fourth time in a row, French-German TV broadcaster ARTE will record the ceremony and air it on February 14th 2009, at 11.30 pm. rbb TV will rebroadcast the show on February 15th 2009, at 11.30 pm.
See the highlights and award winners of the last TEDDY Award Gala here >>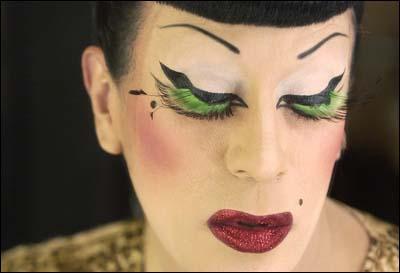 JOEY ARIAS
"THE drag superstar" - New York Times
Leaving Las Vegas

After years in the desert, New York's notorious singer and drag artiste, downtown legend Joey Arias comes to perform at the
TEDDY AWARD GALA 2009.

For the first time UNAIDS is an institutional partner of the TEDDY AWARD. The Under Secretary- General of the United Nations and new Excecutive Director of UNAIDS, Mr Michel Sidibé, will be guest of the 23. TEDDY Award Ceremony at House of World Cultures.
MICHAEL BALLACK - UNAIDS Ambassador
- UNAIDS Campaign - Protect yourself -
Joint statement on human rights in the context of the HIV epidemic

UNAIDS and UNDP participated in a High Level Meeting on Human Rights, Sexual Orientation and Gender Identity on 18 December. At this meeting, a joint UNAIDS-UNDP statement on was circulated which is a call for enhanced action to promote and protect the human rights of men who have sex with men, transgender people, lesbians, gays and bisexuals in the context of the HIV epidemic.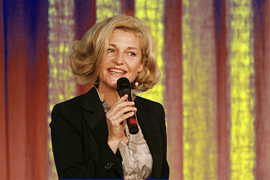 ANNETTE GERLACH
Host of the 23rd TEDDY Award Ceremony
This year's Special TEDDY will be awarded to Joe Dallesandro who, in the 70's became as Warhol's muse a sexual icon for a whole generation. Films by Andy Warhol, Paul Morrissey or Serge Gainsbourg's `Je T'aime Moi Non Plus` (1975) made Dallesandro a legend.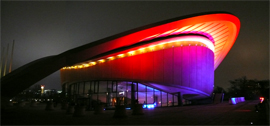 HAUS DER KULTUREN DER WELT
THE HOUSE OF WORLD CULTURES
For the 23rd time the TEDDY QUEER FILM AWARDS are presented on February 13th 2009 at 9.00 pm.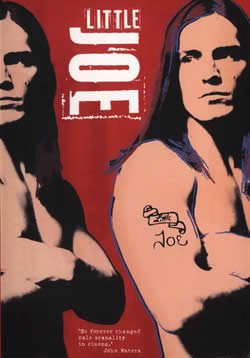 SPECIAL TEDDY AWARD 2009 goes to
JOE DALLESANDRO
"A wonderful actor who forever changed male sexuality on the screen."
— John Waters
Andy Warhol made him famous.
The underground films made him a
sexual icon.
His body made him a legend.
Wieland Speck, director of the Berlinale Panorama section and executive of the association TEDDY e.V. remembers: "Dallesandro was not only the most beautiful man in his medial generation at the time, but also put his erotic appeal out to consciously be objectified. He has this physical appearance you never get tired of watching. This is true for the moving picture as well as photographs – and for men as for women."
TEDDYAWARD.TV brings to you an exclusive interview with Special TEDDY awarded and Oscar winning actress Tilda Swinton about her life and work with Derek Jarman and her close ties with the Berlinale.
A queer film award in the context of a festival like the Berlin International Film Festival helps to make gay, lesbian and transgender identities and lives visible and by doing so blazes a trail. This is and remains the focus of this event which is organised by the honorary TEDDY charity and their supporters.
"Homophobia - in all its forms - is one of the top five barriers to ending this epidemic, worldwide." > > >

- Dr Peter Piot
- former UNAIDS Executive Director
The award ceremony, hosted by Annette Gerlach, will come up with a great variety of music, show acts and international stars. A highlight of the Berlin International Film Festival is allways the following after-show party that will be supported by a huge part of Berlin's queer scene and has often been the centre of international attention.
Advance Sale for Gala Started
Pricing: Seats Auditorium 35 € / 25 €
Live Video Screening 15 €
Party & midnight special ticket 12 €
Tickets at Prinz Eisenherz Bookstore and online at Haus der Kulturen der Welt, free of handling fees. All other presellers, plus handling fees.
Online Tickets at www.eventim.de
"In countries without laws to protect…. men who have sex with men, only a fraction of the population has access to prevention. Conversely, in countries with legal protection and the protection of human rights for these people.... there are fewer infections.... and fewer deaths.
Not only is it unethical not to protect these groups; it makes no sense from a health perspective. It hurts all of us."

- Ban Ki-moon , UN Secretary General