Fri, Feb 12
Orly
(See also: TEDDY TODAY Feb. 12, 2010)


Ende des Winters. Menschen warten am Flughafen Paris Orly. Eine Frau, die ihren Ehering bei der Mutter vergessen hat, verliebt sich in einen Fremden. Ein junger Mann, dessen Liebe in der allzu engen Zweisamkeit mit seiner Freundin verloren ging, entdeckt die Frau seiner Träume. Ein schöner Jüngling an der Grenze zum Erwachsensein verreist mit seiner Mutter. Für den Sohn wird es Zeit, Klartext zu reden. Er erzählt ihr, wie er mit seinem Freund am Fluss war. Dass es zu regnen begann und wie sie sich in einem Ruderclub unterstellen mussten. »Dann haben wir uns angesehen. Und dann haben wir gefickt.« Ihr Flug ist dran, sie gehen zum Boarding. Die Mutter ist ein bisschen kleiner geworden. Er legt schützend den Arm um sie – Menschen in einer Phase des Übergangs. Damit befasst, ihrem augenblicklichen Schicksal zu folgen, bemerken sie nichts von der äußeren Bedrohung, die zur Evakuierung des Flughafens führt.

Winter's end, travelers are waiting in Paris airport Orly. A woman, who accidentally left her wedding ring at her mother's, falls in love with a stranger. A young man lost his love in the much too close relationship that he has with his girlfriend (Lina Falkner), and discovers the woman of his dreams. At the cusp of adulthood, a beautiful youth is traveling with his mother. For the son, it's time to speak plainly. He tells her the story of him and his friend being at the river when it started to rain. They sought shelter in a boat house. »Then, we looked at each other. And then we fucked.« Their flight is called and they go to board. The mother doesn't know what to say. He protectively puts his arm around her. People in transit, so occupied by their immediate fate that they are oblivious to threat until the airport is evacuated.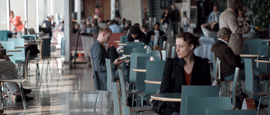 Filmstill
by Angela Schanelec / 084 min
with Josse de Pauw, Bruno Todeschini, Natacha Régnier, Mireille Perrier, Maren Eggert
Prod: Ringel Filmproduktion & Nachmitt.
Screenings at the Festival:
12.02.10 19.15h Cinemaxx 5 (press screening) EN
13.02.10 19.15h CineStar 8 EN
14.02.10 21.30h Delphi-Filmpalast GER
16.02.10 12.00h Arsenal EN
17.02.10 20.00h colosseum 1 GER