Fri, Feb 08
B teme (In the Theme)
english>>
Ein junges Ehepaar feiert seinen ersten Hochzeitstag. Die beiden haben Überraschungen füreinander vorbereitet, trinken eine Flasche Champagner, zeigen einander stolz ihre Eheringe und lassen ihre Beziehung Revue passieren. Zur Musik von Frida Selander stellen sie sich Fragen zu Ehekrächen, Auseinandersetzungen mit Gleichaltrigen, Kinderwunsch und ihrem Alltag "in the theme".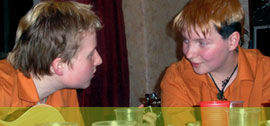 Filmstill
B teme (In The Theme)
by Olga Popova
Russische Föderation
Betacam SP / 014 min / Russisch/Englisch ST
WS: Umeå International Film.

Screenings at the festival
in Berlinale Shorts V
08.02.08 CinemaxX 6 14:00
09.02.08 CinemaxX 6 18:30
14.02.08 CinemaxX 3 22:00
16.02.08 CinemaxX 6 18:30