Tue, Feb 16
Siemiany
(See also: TEDDY TODAY Feb. 16, 2010)


Andrzej und Michal verbringen ihre Ferien jedes Jahr zusammen in Siemiany. Sie vertreiben sich die Zeit mit Kaulquappenfangen, Schwimmen und dem Auskundschaften ihrer Sexualität. Ihre Freundschaft bekommt Konkurrenz von der 14-jährigen Agnieska, die auf Michal große Anziehung ausübt – Andrzej ist noch nicht so weit oder einfach nicht an Agnieska interessiert. Dann dringt auch noch Michals großer Bruder mit seiner blondhaarigen Clique in die Ferienidylle der Jungen ein. Andrzej spürt, dass er in ihrer groben Gesellschaft nichts verloren hat und geht seiner eigenen Wege. SIEMIANY ist der erste Film des 1987 in Warschau geborenen Philip James McGoldrick.

Andrzej and Michal spend their vacation together every year in Siemiany. They pass time by catching tadpoles, swimming and exploring their sexuality. Their friendship is challenged by 14 year old Agnieska. Michal is very attracted to her. Andrzej is either not old enough or just is not interested in Agnieska. Michal's older brother and his bleach blond gang invade the boys' holiday paradise. Andrzej senses that he is not missing anything by going his own way. Born in Warsaw in 1987 Philip James McGoldrick has made his first film with SJEMIANY.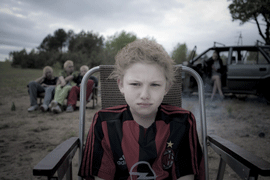 Filmstill
by Philip James McGoldrick / 018 min
with D. Ul, M. Wlodarczyk, A. Radwansak

Screenings at the Festival:
16.02. 11:30 Uhr BABYLON
19.02. 14:30 Uhr BABYLON
20.02. 11:00 Uhr BABYLON