Sun, Feb 14
Die Stille Nach Dem Schuss
(See also: TEDDY TODAY Feb. 14, 2010)


Deutschland in der 70er Jahren. Rita Vogt lebt im unerschütterlichen Glauben an eine bessere Welt. Sie will etwas bewegen. Sie schließt sich gemeinsam mit ihrem Freund Andi einer terroristischen Gruppe an. Als Menschen getötet werden, taucht Rita in der DDR unter. Der Stasi-Beamte Hull unterstützt sie dort beim Aufbau einer neuen Identität. Ein anderer Name, ein Job und neue Freunde. Und als sich Rita in ihre Arbeitskollegin Tatjana verliebt, glaubt sie ihre Vergangenheit abgeschüttelt zu haben … DIE STILLE NACH DEM SCHUSS von Oscar-Preisträger Volker Schlöndorff stammt aus der Feder von Wolfgang Kohlhaase und wurde als Bester Europäischer Film und mit je einem Silbernen Bären für die Darstellerinnen Bibiana Beglau und Nadja Uhl geehrt. Wolfgang Kohlhaase erhält am 17. Februar 2010 den GOLDENEN BÄREN für sein Lebenswerk. Er gilt als einer der wichtigsten Drehbuchautoren der deutschen Filmgeschichte.

Germany in the 1970's, Rita Vogt lives with an unshakeable belief in a better world. She wants to change something, so she and her friend Andi get involved with a terrorist. When people get killed, Rita goes into hiding in East Germany. The State Security Officer Hull aids her to disappear into a new identity there: a new name, a new job and new friends. When Rita falls in love with her colleague Tatjana, she believes she's shaken off her past … Oscar winner Volker Schlöndorff's THE LEGEN D OF RITA, written by Wolfgang Kohlhaase won the BLUE ANGEL (Best European Film) and two SILVER BER - LINALE BEARS for both actresses Bibiana Beglau and Nadja Uhl. Wolfgang Kohlhaase will receive the Honorary GOLDEN BEAR for his lifetime achievements on February 17th, 2010. He is considered one of the most important script writers in German film history.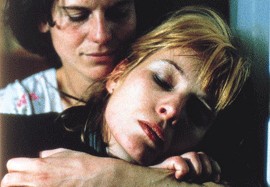 Filmstill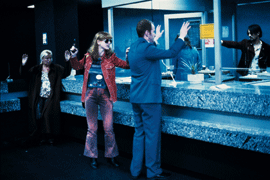 Filmstill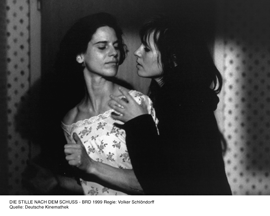 Filmstill
by Volker Schlöndorff

Screenings at the Festival:
So 14.2./18:00, CinemaxX 8
M0 15.2./19:30, Zeughauskino