Sat, Feb 13
Blutsfreundschaft (Initiation)
(See also: TEDDY TODAY Feb. 13, 2010)


Der 16-jährige Axel hat Probleme zu Hause und fliegt von der Schule. Auf der Straße macht er die Bekanntschaft mit einer Neonazi-Gang. Um anerkannt zu werden, muss er gefährliche Rituale über sich ergehen lassen und andere Menschen demütigen. Als er von seinen neuen Freunden zu einem Mord angestiftet wird, kommt es zum Eklat. Nach dem Überfall versteckt sich Axel in einer Wäscherei. Ihr Besitzer, Gustav Tritzinsky (Helmut Berger), ein 80 Jahre alter Homosexueller, nimmt den Jungen bei sich auf, weil er ihn an seine große Liebe erinnert, die er während der NS-Zeit an die Gestapo verraten hat. Doch Axels neue Gang ist mit der Freundschaft, die sich zwischen dem ungleichen Paar entwickelt, alles andere als einverstanden. Kern, der vor seiner Schauspielkarriere bei den berühmten Wiener Sängerknaben sang, spielte u.a. unter der Regie von Fassbinder, Wenders und Zadek. 1978 gründete Kern eine Filmproduktion und dreht seit 1980 zahlreiche eigene Spiel- und Dokumentarfilme.

Sixteen year old Axel has a problem at home and is kicked out of school. On the streets he meets a Neo-Nazi Gang. To get recognition, he has to go through dangerous rituals and humiliate people. When his new friends provoke him to murder, the situation explodes. After the attack, Axel hides out in a laundrette. The owner, Gustav Tritzinsky (Helmut Berger), an eighty year old homosexual, takes the youth in because the boy reminds him of his great love, whom he betrayed to the Gestapo during the Nazi-Era. Axel's new gang is anything but understanding of the friendship that develops between the odd couple. Before his acting carrier, Kern was a member of the famous Wiener Knabenchor and later acted for directors like Fassbinder, Wenders, Zadek and others. In 1978 Kern founded his own film production company and has made many of his own films and documentaries since 1980.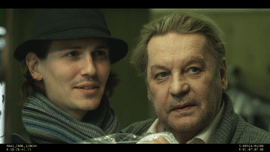 Filmstill
by Peter Kern / 092 min
with Helmut Berger, Harry Lampl, Melanie Kretschmann, Michael Steinocher, Manuel Rubey, Matthias Franz Stein, Oliver Rosskopf, Heribert Sasse, Gregor Seberg
Prod: Novotny & Novotny,
Screenings at the Festival:
13.02.10 CinemaxX 7 22:30
14.02.10 CineStar 3 20:15
15.02.10 Cubix 7 & 8 20:15
18.02.10 Cubix 7 & 8 22:30