Sat, Feb 13
Henri IV
(See also: TEDDY TODAY Feb. 13, 2010)


Frankreich im 16. Jahrhundert. Protestanten und Katholiken kämpfen im Namen des Glaubens um die Macht. An der Spitze der Protestanten rüstet Henri, König von Navarra, gegen Paris, gegen die Katholiken, gegen die mächtige Rivalin seiner Mutter: Katharina von Medici, Königin von Frankreich. Sie bietet ihm die Hand ihrer Tochter Margot – als Zeichen der Versöhnung. Die Hochzeit endet im Blutbad der Bartholomäusnacht. Henri überlebt das Gemetzel. Doch er wird im Louvre wie ein Gefangener gehalten. Katharina von Medici zwingt ihn, den katholischen Glauben anzunehmen. Bei der ersten Gelegenheit ergreift er die Flucht. Fünfmal wechselt er seinen Glauben, er kämpft und taktiert. Er will das Feld nicht denen überlassen, die weder Gewissen noch Menschlichkeit kennen. Auf seinem Weg zum Thron reift er zu einem Monarchen, der sich als einer der Ersten einen wahren Humanisten nennen darf.

16th Century France: protestants and catholics are fighting for the throne in the name of god. Henri, King of Navarra, leads the protestants against Paris, against the catholics, against his mother's rival, Catherine of Medici, Queen of France. As a sign of reconciliation, she offers him the hand of her daughter, Margo, in marriage. The marriage ends in the bloody St. Bartholomew's Day Massacre. Henri survives the slaughter but only as a prisoner of the Louvre. Catharine of Medici forces him to convert to Catholicism. At his first chance, he flees. He changed his religion five times, fought and plotted. He would not give up to those who knew neither conscience nor humanity. On his way to the throne, he would become the first monarch to be called a humanist.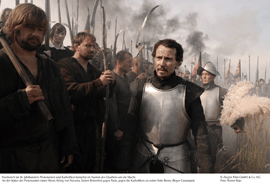 Filmstill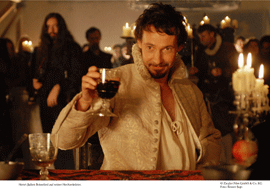 Filmstill
by Jo Baier / 155 min
with Julien Boisselier, Joachim Król, Armelle Deutsch, Hannelore Hoger, Ulrich Noethen
Prod: ARTE
Screenings at the Festival:
13.02.10 Friedrichstadtpalast 21:00