Sat, Feb 13
Open
(See also: TEDDY TODAY Feb. 13, 2010)


Cynthia (Gaea Gaddy) ist Hermaphrodit und lernt Gen (Tempest Crane) und Jay (Jendeen Forberg) kennen, ein Pärchen, das sich gerade nach einer gemeinsamen plastischen Schönheits-OP regenerieren muss. Cynthia lernt nun verstehen, was Pandrogyny bedeutet: Zwei Menschen versuchen ihre Gesichtszüge so miteinander zu verschmelzen, dass sie zu einem Wesen werden. Cynthia ist inspiriert von dieser Vorstellung und verlässt ihren Mann und ihr Vorstadtleben,um zusammen mit Gen eine Erkundungsreise zu unternehmen … Parallel dazu trifft ein junger Transsexueller einen Punk, Nick (Daniel Luedtke), und die beiden verlieben sich.

The young hermaphrodite Cynthia (Gaea Gaddy) meets Gen (Tempest Crane) and Jay (Jendeen Forberg), a couple recovering from plastic surgery. She learns of Pandrogony, in which two people merge their facial features making one unified entity from separate ones. Inspired by this, Cynthia abandons her husband and suburban life to embark on a road trip with Gen through the remnants of 20th century America. Simultaneously, a young transman meets a young punk, Nick (Daniel Luedtke), and they fall in love.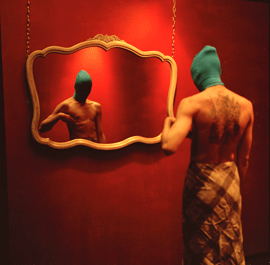 Filmstill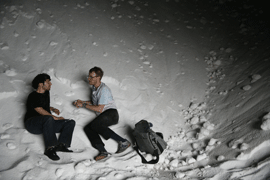 Filmstill
by Jake Yuzna / 088 min
Prod: Narrative Films
Screenings at the Festival:
13.02.10 Colosseum 1 22:30
15.02.10 CinemaxX 7 22:30
16.02.10 CineStar 3 20:15
17.02.10 CineStar 3 17:15
21.02.10 CinemaxX 7 21:00