Sat, Feb 13
Making The Boys
(See also: TEDDY TODAY Feb. 13, 2010)


Mart Crowley's THE BOYS IN THE BAND (1968) gehört zu den für die Gay-Community bahnbrechenden künstlerischen Werken. Zum ersten Mal wurden schwule Männer nicht als Opfer, pathetische Verlierer, Einzelgänger oder gesellschaftlicher Abfall einer Öffentlichkeit präsentiert, sondern als Menschen wie du und ich. Zusammen mit Mart Crowley, der den Zuschauer durch ein Feuerwerk aus historischen Filmschnipseln und Interview-Bits führt, spürt Cryaton Robey dem Phänomen des Erfolges und den Protagonisten von damals nach.

Mart Crowley's THE BOYS IN THE BAND (1968) belongs to the seminal artistic works for the gay community. For the first time gay men were not presented as victims or pathetic losers, loners or as societal waste, but rather as people like you and I. Together with Mart Crowley, who leads the audience through fireworks of historical film snippets and interview bits, Crayton Robey traces the phenomenon of success and the protagonists of that time.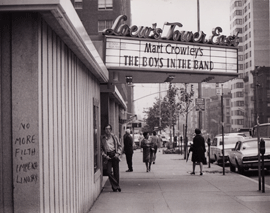 Filmstill
Filmstill
by Crayton Robey / 093 min
Prod: 4th Row Films,
Screenings at the Festival:
13.02.10 CineStar 7 14:30
19.02.10 CineStar 7 17:00
20.02.10 CineStar 7 12:00
21.02.10 CineStar 7 20:00