Sat, Feb 13
Rock Hudson
(See also: TEDDY TODAY Feb. 13, 2010)


Rock Hudson zählte in den 1950er und -60er Jahren zu den populärsten Schauspielern Hollywoods. Hudson war einer der ersten Prominenten, die an den Folgen von AIDS verstarben. In diesem Jahr würde er seinen 85. Geburtstag feiern. Der Film beschäftigt sich mit dem homosexuellen Rock Hudson, der sein Leben lang zwischen zwei Welten gelebt hat. Nach außen war er der gut aussehende heterosexuelle Mann, auf der anderen, verborgenen Seite lebte er die verbotene Sexualität eines schwulen Mannes. Er war zum Lügen gezwungen. – Schauspielen ist die Kunst, das Publikum davon zu überzeugen, dass du derjenige bist, den du darstellst … Der Film arbeitet mit Interviews von Familienmitgliedern, Fans, ehemaligen Kollegen, Filmexperten, wie auch mit Ausschnitten aus seinen Filmen und dokumentarischen Aufnahmen.

Rock Hudson is among the most popular Hollywood actors of the 50's and 60's. Hudson was one of the first prominent people to die of AIDS. This year he would have been 85. The film is about the homosexual Rock Hudson, whose whole life was spent between two worlds. To the outside world, he was the good looking heterosexual man. In his private world, however, was the forbidden sexuality of a gay man. He was forced to lie. Acting is the art of convincing an audience that you are who you are playing … The film is comprised of interviews from family members, fans, colleagues, and film experts as well as excerpts of his films and documentary recordings.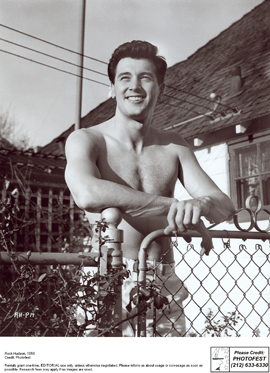 Filmstill
by Andrew Davies and André Schäfer/ 095 min
with Oliver Bätz, Rieke Brendel, Anna Steuber, Pablo Ben-Yakov
Prod: Florian Film GmbH
Screenings at the Festival:
13.02.10 CineStar 7 22:30
18.02.10 CineStar 7 20:00
19.02.10 CineStar 7 14:30
21.02.10 Cubix 7 17:30