Sat, Feb 13
Mine vaganti (Loose Cannons)
(See also: TEDDY TODAY Feb. 13, 2010)


Der aufstrebende Autor Tommaso ist das jüngste Kind einer exzentrischen italienischen Familie, der eine Pastafabrik in Puglia gehört. Weil der Vater das Management der Pastafabrik ihm und seinem Bruder anvertrauen will, kommt Tommaso extra von Rom zum Familientreffen. Tommaso plant allerdings, seiner Famile beim Essen zu eröffnen, dass er schwul ist, nicht zuletzt, um sein Leben selbst bestimmen zu können. Doch ausgerechnet in dem Moment, als er um Aufmerksamkeit bittet, stiehlt ihm sein Bruder die Show und erklärt seiner schockierten Familie und sehr zum Erstaunen Tommasos, dass er Männer liebt. Der türkisch-italienische Regisseur Ferzan Özpetek (HAMAM – DAS TÜRKISCHE BAD) gilt als wichtigster Vertreter des neueren italienischen Kinos. Sein Film DIE AHNUNGSLOSEN lief im WETTBEWERB der BERLINALE 2001.

Tommaso, an aspiring writer, is the youngest child in the large, eccentric italian family who owns a pasta factory in Puglia. He has come home from Rome for an important family dinner at which his father will hand over the management of the pasta factory to him and his brother. Determined to assert his own personal choices, Tommaso plans to announce at the dinner that he is gay. But that evening, just as he begins to say »silence please«, he is upstaged by his brother who, to Tommaso's surprise, and everyone else's shock, announces he is gay. The Turkish-Italian Director Ferzan Özpetek (HAMAM) is considered to be an important member of New Italian Cinema. His film THE IGNORANT FAIRIES was nominated for a GOLDEN BEAR in the 2001 BERLINALE.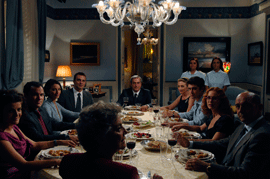 Filmstill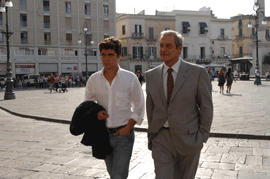 Filmstill
by Ferzan Ozpetek / 110 min
with Riccardo Scamarcio, Nicole Grimaudo, Alessandro Preziosi, Ennio Fantastichini, Lunetta Savino
Prod: Fandango S.R.L
Screenings at the Festival:
13.02.10 Zoo Palast 1 21:45
14.02.10 CinemaxX 7 13:00
15.02.10 International 14:00
17.02.10 Cubix 9 17:00
19.02.10 Cubix 9 14:30